Team Building Activities and Games – Team Building Puzzles
Team building puzzles
Daisy Chain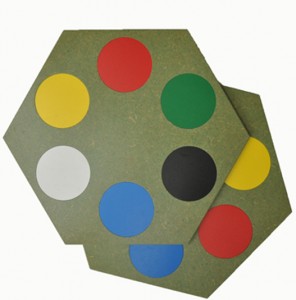 Price: £195.00
We have a range of  well known team building puzzles such as tangrams, planks or The towers of Hanoi planks. Daisy chain is a not so well known challenge but  a great team activity,  a classic in the making. Daisy Chain is a great team building activity where to solve the puzzle an ordering system should be used. The challenge is to firstly make a pyramid using 6 of the hexagons and then a flower shape where all like for like colours touch. This team building puzzle is a true test of any teams communication and organisation skills.
Suggested numbers of participants per set: Ideal group size is 4-8
Duration: From 15 mins plus
Daisy Chain activity set includes:
All of our team building puzzles have free delivery within the UK (Please contact us for delivery outside UK)
Each set consists of 7 x hexagons made of mositure resistant MDF
Each piece is laquered and edges  are rounded  and then coloured plastic discs are set into them.
A4 laminated briefing sheet
A4 laminated answer sheets
1 x reviewing prompts sheet
Moisture resistant MDF box with handle with sliding access panel and rope handle
CD-Rom to enable future copies of documentation to be printed
Price: £195.00