Team Building Activities and Games – Toxic Waste
Toxic Waste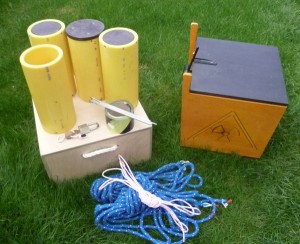 Price: £350.00 
Toxic waste is a  fantastic team building activity and this particular set comes with the ability to have many variations.  This team game is based on an exclusion zone that cannot be entered. Within this exclusion zone there are certain challenges that must be solved by the team from outside the area using the given equipment. With so many different ways to solve this diverse challenge this it really is an ideas generator within a group setting. As with all activities that have multiple solutions it up to the team how they communicate,  and then harness the ideas to enable success.  After the activity has finished this process can be discussed and reviewed to get the most from the process.
This exercise is also known in the team building community  as unexploded bomb or acid circle.
Suggested numbers of participants per activity set: Range from 4-10
Duration: From 30 mins + depending on what variables are added or removed during the set up
Toxic waste activity set includes:
Free delivery within mainland UK (Please contact us for delivery outside this area)
1 x toxic waste box
4 x different toxic waste canisters
Barrier tape and tent pegs
ropes / keys, padlock / rubber bands
1 x A4 laminated briefing sheet
1 x laminated reviewing ideas sheet
CD-Rom with documentation included.
All documentation and CD-Rom comes in folder
Price: £350.00